Products
Enki Energy offers, often in close cooperation with its partner(s), the following products:
Semi-automatic bioreactors 
Especially suitable for demonstration, tests and research purposes
Different sizes available from 50 to 7000 liters
Automatized in different gradations possible
Robust and mobile
Reliable and easy to operate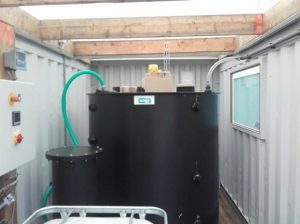 Automated bioreactors for kitchenwaste (Swillgasser) 
Fully automated bioreactor starting from 3 m3, also available in a container:
Especially suitable for restaurants, hotels and catering firms (ca. 50-500 kg organic waste/day)
If required (modular) made in a container, easily to move and to be fit in into the existing situation
Stand-alone; fully automated
Completely closed reactor; No malodorous gases; Safe
No transport of waste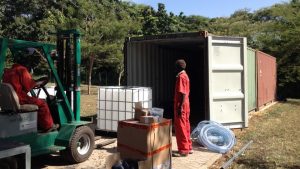 Automated bioreactors for specific purposes starting from 15 m3 to 200 m3
Appropriate for vegetable and fruit growers, food processing industry (starting from 2 m3/week)
Easy to connect; plug-and-play
Ideal for local usage and local use of biogas
Complete organic waste treatment with reuse of water and digestate
Free of malodourous gases and pathogens
No waste transport costs
Compact and robust
Reduces H2S in biogas to <2 ppm
Reliable
Low maintenance costs
Safe
Unique features of our anaerobic installations are:
Modular approach for flexible operation
Compact, competitive pricing
Optimized bacterial cultures for improved performance and short treatment times
Only natural micro-organisms
Easy to operate
Dedicated pH-control mechanism: No storage of acids or base
Many feeds (release currents) are possible
---
Services
Enki Energy offers the following services:
Exploratory experiments on the digestibility of waste streams

Do you consider installing a fermenter? We have the know-how and facilities to carry out experiments thereby creating insight into the possibilities of your specific application.
Investigating the (local) usage of biogas
Consultancy activities regarding fermentation and waste disposal

We have extended knowhow and experience on (an)aerobic fermentation, biology, chemistry, and engineering. We will be glad to assist you in the process of waste disposal and construction of a fermentation system.
(Re)use of raw materials, water and energy
Consultancy in the process of acquiring the neededpermits for operating

bioreactors and treating waste streams
We offer support in case of licensing of bioreactors, certification of digestate, use of biogas and disposal of waste water.
Maintenance of existing reactors