Coping with energy shortages will be one of the major challenges for the coming years. We have to search for alternatives to replace the non-renewable fossil fuels. Sustainable techniques and methods should be used to reduce the fossil fuels use. Organic waste streams form a promising alternative. Kitchen waste, as well as fruit and vegetable waste, is a potential source of energy. This biomass can be converted into useful energy through the formation of Biogas (Wikipedia on biogas).
Enki Energy is an expert on small-scale anaerobic digestion. Enki Energy developed a compact, anaerobic digester with an advanced process control system (patent granted). The digestion process is fast. Small-scale installations are available for many applications.  The biogas produced is used to generate heat or electricity on site, or it can be used for cooking.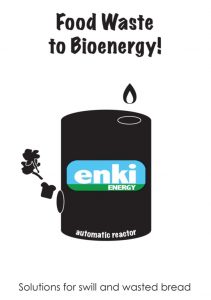 The compact systems of Enki Energy are well suited for small and large waste streams. They are in use at restaurants, neighbourhoods and food processing industry.
Enki Energy selected and grew a (proprietary) unique bacterial culture. All micro-organisms are of natural origin.
Enki Energy builds (demonstration) digesters. Furthermore, Enki Energy executes feasibility studies and demonstration projects.
Biological waste treatment and Energy"
– Enki Energy